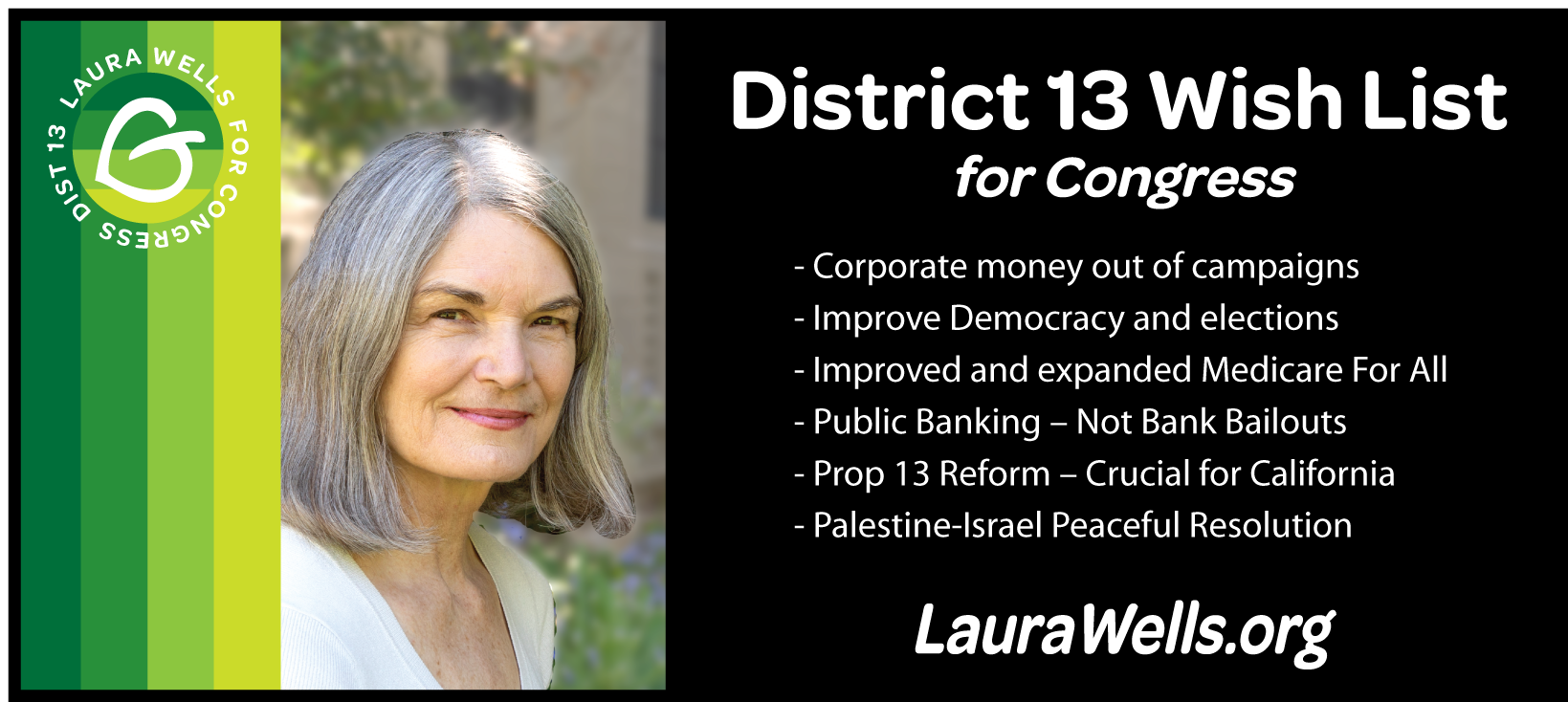 Category:
Uncategorized
DISTRICT 13's WISH LIST FOR CONGRESS
WHAT WE WANT:
OUR DEMOCRACY IS IN PERIL
Corporate money out of campaigning
Endorsements of candidates
Improve democracy and elections
THE VERY BASICS WE NEED
Improved and expanded Medicare For All
Public banking – not bank bailouts
Prop 13 reform – crucial for California
FOREIGN POLICY AND WAR
DEMOCRACY IN PERIL
CORPORATE MONEY – HOW PROGRESSIVE CAN YOU BE, IF YOU'RE NOT CORPORATE-FREE?
Corporate money in campaigns is not a "single issue" — it cuts across all other issues. Most important legislation is horribly compromised because virtually all legislators take corporate money.
Barbara Lee is not running corporate-free, even though there is a trend of more candidates doing so. The Democratic Party money machine creates chains of corporate servitude that must be obeyed, even if a candidate is individually corporate-free, or an "icon" of progressive Democrats.
The Green Party and its candidates NEVER accept corporate money.
Follow the money! The available FEC records make it harder and harder to find out where candidates' money comes from, while at the same time voters realize more and more how important it is to know ("if you take their money, they are your boss"). By poring over disordered records earlier this spring, researchers created the following partial list of Barbara Lee's funders. Even early in the campaign, the list was staggering.
BARBARA LEE'S CORPORATE CAMPAIGN CONTRIBUTIONS
-American Academy of Family Physicians $2,500
-American Dental Assoc $5,000; American Healthcare Assoc $3,000
-American Society of Anesthesiologists $2,500
-Bayer (which just acquired Monsanto and was fined $289M for Roundup poisoning) $1,00
-BioMarin Pharmaceutical $1,500
-BNSF Railway $1,000
-Clorox $2,000
-Covington & Burling LLP $4,250
-General Motors $2,000; Gilead Sciences $2,500
-GlaxoSmithKline $2,000
-Google $3,000; Gridiron PAC $3,000
-Intellectual Ventures (a cover organization that raised $5.5 billion from corporations like Microsoft, Intel, Sony,   –    -Nokia, Google, Yahoo, American Express, Adobe, eBay among others) $2,500
-John P. Gooding (who fought the Hotel Workers' Union in Emeryville) $5,400
-Johnson & Johnson $3,000
-Jordan Wayne RE Developer from Oakland $5,400
-JStreet PAC $11,100
-Lockheed Martin $2,000; Microsoft $3,000
-Motorola $2,000
-Pfizer $2,000; PG$E $3,000
-Ravi Patel of Patel Enterprises $2,700
-Safeway $1,000; StateFarm Insurance $500
-T-Mobile $2,500; Viacom $1,500
-Willie Brown $2,700
Where does the money go? To things like catamaran fundraisers in Martha's Vineyard Massachusetts, and down the line to other Democratic Party "team players" — many of whom are much less progressive than District 13.
ENDORSEMENTS OF CANDIDATES
Whose side is she on?
Barbara Lee sat on the sidelines in the 2016 Presidential Primary between Bernie Sanders and Hillary Clinton, and refused to endorse either Sanders or Clinton during the primary season. True, the vast majority of Democratic Party congressmembers did endorse Clinton, but Sanders received endorsements from 9 congressmembers, including Keith Ellison (MN), Tulsi Gabbard (HI), Alan Grayson (FL), and Raul Grijalva (AZ). This was despite the fact that there was very strong support for Sanders in her congressional district, and Sanders did end up winning more primary votes in the district than Clinton. In other words, unlike the 9 congressmembers who did endorse Sanders, Barbara Lee declined to be a progressive leader in the primary contest.
To make matters worse, as a super-delegate at the Democratic National Convention in the summer of 2016, Barbara Lee voted for Hillary, not Bernie. She did not represent the majority in her district, who voted for Bernie.
At the local level, Barbara Lee mostly stopped endorsing candidates. When she made endorsements in the past — being on the congressperson's door hangers was valuable to candidates — she did not choose the most progressive to endorse, even when they were proven incumbents. This year, however, she endorsed Jovanka Beckles for California Assembly District 15. Good. Jovanka Beckles has been a corporate-free Richmond City Councilmember. Barbara Lee also endorsed London Breed. Not good. London Breed was a corporate-friendly mayoral candidate in the June primary in San Francisco, facing multiple candidates who were far more progressive.
IMPROVE DEMOCRACY & ELECTIONS
Ranked Choice Voting legislation was recently introduced in the House of Representatives, and Barbara Lee did not add her name to the sponsor list, even though all six are Democrats, and two are from California. Her absence is hard to understand, since RCV is already in place in District 13 in Oakland, Berkeley and San Leandro. It reminds me of when Barbara Lee held back her endorsement until a couple weeks before ranked choice voting was up for voter approval in Oakland in 2006. The League of Women Voters and other activists could have used her powerful endorsement months earlier when we approached other endorsers. Later, there was a victory celebration and who was the keynote speaker? Barbara Lee.
Proportional Representation is used by more than 90 countries in the world for legislative offices. PR allows people to vote for the exact values we DO want, without getting the exact person we DON'T want, and rather than settling for the "lesser of two evils." The Ranked Choice Voting bill that Barbara Lee has not co-sponsored would move us toward this huge improvement to our democracy.
Stop California's Top-Two Primary. Presented as an open primary, in fact it favors big money, big party candidates, and shuts the door on independent parties. The Green Party has three Greens running for Congress on the November ballot this year, a first in the four elections since Top Two began. Wouldn't it be great to have a Green in Congress! No corporate money and solid American values of peace, justice, ecology and real democracy.
Dump the Electoral College! There are plenty of "What Happened" excuses, but without the Electoral College neither Trump in 2016 nor Bush in 2000 could have taken the presidency. Washington needs to do the work of getting the constitution changed to eliminate that undemocratic system — a system instituted over 200 years ago to increase the voting power of slaveholders.
THE VERY BASICS WE NEED
IMPROVED AND EXPANDED MEDICARE FOR ALL
There is no excuse for our not having the kind of healthcare system other countries have taken for granted for decades. If we really had progressive leadership in Washington and Sacramento, we would now have improved and expanded Medicare for all, instead of a private health insurance system that delivers so little, at skyrocketing costs.
At the federal level, the Congressional Progressive Caucus, of which Barbara Lee had been a co-chair, pledged in 2009 to only support a plan that included a "public option" — a Medicare-style choice to compete with the private health insurance options. They backed down and it was taken away. This was when the Democratic Party had a "pro-single-payer" president and a 60% super-majority in both houses of Congress. At the state level, the one-two punch was delivered by Jerry Brown, upon whose desk the Democratic majorities did not even place a single-payer bill, though they had placed a bill on Arnold Schwarzenegger's desk, TWICE. Now in 2018, Barbara Lee has co-sponsored a single-payer bill. Too little, too late. The "flipped" Congress has no plans to pass it, and Trump has no plans to sign it.
The Green Party has supported a single-payer, Medicare-for-all model for decades. We are running for Congress as well as state and local seats in order to push for quality healthcare, and other basics. The pharmaceutical, hospital, and insurance industries cannot budge us because we reject their campaign contributions and sub-par options.
PUBLIC BANKING – NOT BANK BAILOUTS
Remember the bank bailouts in 2008? In a typical pattern, Congress listened to the public outcry against the proposed $700 billion bailout; voted "No"; and then four days later approved it. Barbara Lee and others changed their votes to "Yes."
Since then there were a host of problems that PUBLIC BANKING WOULD HAVE AVOIDED. Since 2008, bankers gave themselves bonuses, did not get jail time, bought up smaller banks, got even more money from the government, foreclosed on countless homes, gouged our municipal budgets, contributed to the campaigns of public officials, and were rewarded by weak regulations. Strong public safeguards were not instituted, such as Glass-Steagall, which was enacted in 1933 and killed in 1999 when President Bill Clinton signed its repeal and set up conditions leading to the 2008 meltdown. That was the Wall Street Bank scenario.
There is a solution. PUBLIC BANKS partner with community banks to ensure better loans for homeowners, small businesses, and students. Large infrastructure projects are funded by the public bank, thereby avoiding a huge part of the cost going out of the area. Then the interest that is earned is re-invested in local infrastructure projects such as social housing, renewable energy, green transition projects, and cooperative enterprises.
Oakland, Berkeley, and Richmond are working together to implement a public bank, and would welcome the endorsement and help of their congressperson. Public banking has been a cornerstone of my Green Party campaigns, and as a congressperson, I would certainly advocate strongly for their implementation at the local, state, and national level.
PROP 13 REFORM – CRUCIAL FOR CALIFORNIA
Proposition 13 passed in 1978 as a way to help homeowners. Most people don't know that a loophole in Prop 13 allowed large corporations to benefit the most. This loophole increased the tax burden on individuals and decimated funding for our schools and public services.
In 2020 a proposition will be on the November ballot to close the corporate loophole. Signatures have already been gathered in a huge grassroots effort.
The support of our District 13 congressperson would help the grassroots organizations withstand the onslaught of big money that is sure to come. Barbara Lee's name is not on any of the lists:
– Evolve (evolve-ca.org), Reform Prop. 13, over 1300 Elected Officials in California
– Schools and Communities First, endorsers, State and Federal Elected Officials
– Make it Fair CA, endorsers
Prop 13 has a special significance for me. As a Green Party candidate for the statewide offices of State Controller and Governor, Prop 13 reform and Public Banking were cornerstones of my campaigns. Prop 13 was always the "third rail" of politics because of big money opposition and the misrepresentation of its benefits to homeowners. I am personally thrilled that so many young people who weren't even born in 1978, along with long-timers like me, worked together to get this reform on the ballot in November 2020.
Other congresspersons signed on, and you can bet that as District 13's congressperson, I would sign on immediately. President Reagan has often been credited with drastically cutting the taxes of the rich when he became president in 1980. It was Prop 13, however, that started the downhill slide in 1978, and so California has a special responsibility to lead the way in undoing the damage.
FOREIGN POLICY AND WAR
PALESTINE-ISRAEL
We hear our congresspersons speak words of peace, but when we follow the money we see war and terror.
Congress just solidified a $38 billion military aid package that is the most generous ever to Israel. The voice vote in the House of Representatives was unanimously in favor. Barbara Lee did not vote "no". This vote came three months after the Israeli parliament passed a law essentially defining Israel as a Jewish state, not even pretending NOT to be an apartheid state.
Although the Israeli government and military have not lived up to agreements reached through diplomacy, it nevertheless was rewarded.
When you find out the terror and deprivation that the Palestinians have been living under, it is hard to believe that there was not a single vote against the $38 billion military aid. It is way past time to stop supplying aid in the form of money and weaponry, and it is time for BDS: boycott, divestment and sanctions, as was done with South Africa. The occupation and colonization needs to end, and the right of return needs to be ensured.
Laura Wells for Congress, District 13
www.crowdpac.com/campaigns/387084/laura-wells
www.LauraWells.org
www.cagreens.org
@LauraWellsCA